Corporeal Contemplation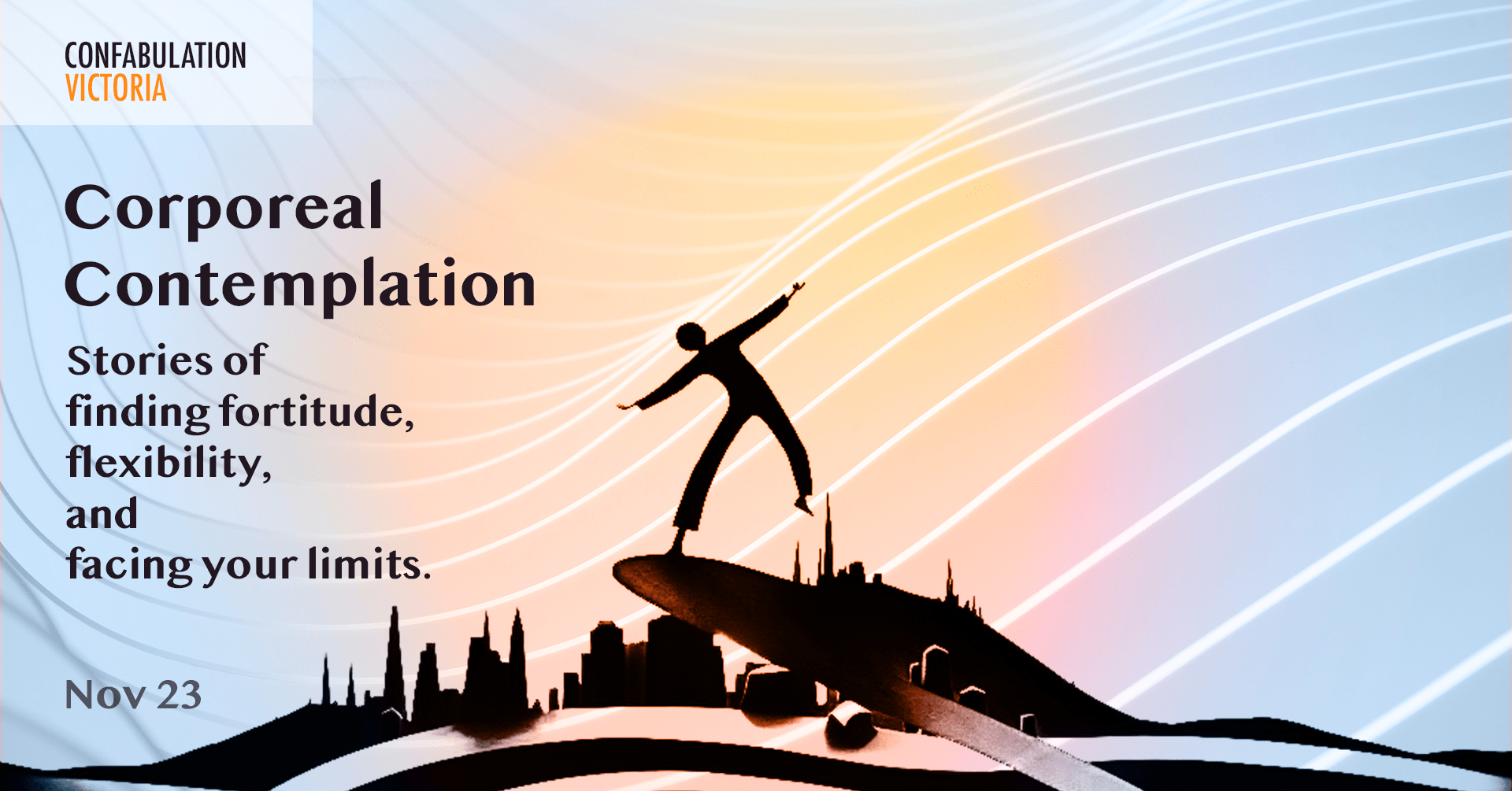 Confabulation Victoria Presents: "Corporeal Contemplation: Stories of finding fortitude, flexibility, and facing your limits."
Thursday, November 23
Show: 7:30PM | Doors: 6:30PM
A night of all-true stories told by the people that lived them. Hosted by Carol-Lynne Michaels and Cassandra Togneri, come out and enjoy six stories told live without props, scripts or gimmicks. This show will explore the theme of Corporeal Contemplation: Stories of finding fortitude, flexibility, and facing your limits.
Storytellers will be announced very soon!
If YOU would like to tell your story at a Confabulation show, email victoria@confabulation.ca with an outline of your story idea, or submit via our website form at www.confabulation.ca
TICKETS
$20 in advance and at the door.
*Tickets at the door are cash only – there is an ATM but it is not reliable
**Limited tables available for reservation – To reserve a table, send an email to boxoffice@victoriaeventcentre.ca. Remaining tables and seating will be first come-first serve at the door.
***ID Required for Alcohol Service
ABOUT CONFABULATION
Confabulation is an all-true storytelling series that takes place regularly in Montreal and Victoria! Learn more about our shows, podcast and story development workshops on our website.
Find us on Facebook, Instagram and Twitter: @ConfabStories
Poster design by Juan Ramirez | jramirez.co
Confabulation Victoria is grateful to the Lekwungen (Lək̓ʷəŋən) People, known today as the Songhees and Esquimalt (Xwsepsum) Nations, on whose traditional and unceded territories we gather upon to share stories together.
For questions on refunds, accessibility, and more, please visit the venue's FAQ page.