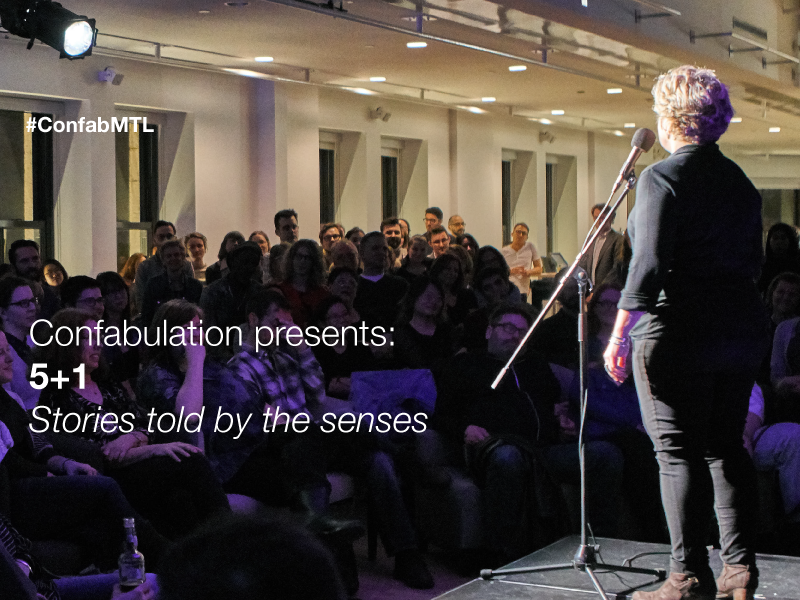 Events
,
Montreal
Date/Time
Date(s) - Saturday, September 9, 2017
8:00 pm - 10:00 pm
Location
Phi Centre
Categories
To compliment Phi Centre's Lucid Realities, Confabulation presents 5+1: Stories told by the senses. Performers will use either sight, hearing, touch, smell, taste, or the yet-undefined sixth sense as a vehicle to take the audience on a sensory journey through a true-life personal story. Submit your story pitch here.
We'll also be ringing in our eighth season!
Explore Lucid Realities at Phi Centre:
Dreams, memories, and reflections… The third installment of the Sensory Stories series, Lucid Realities, invites visitors to navigate previously unknowable worlds. Step inside dreams, nightmares, fantasies, and recollections such as walking in space, inhabiting another person's body, flying like a bird, or exploring secret locations.
Experience new stories and interactive installations from storytelling pioneers that incorporate technologies ranging from artificial intelligence, mixed reality, haptics, olfaction, facial-recognition and biofeedback. The programming features a collection of the very best new immersive experiences that engage all of the senses and redefine the way we encounter narrative.